I came across this recipe about a while back and have been wanting to try it since. For the original recipe just click
here
.
8 oz bulk chorizo
1/3 cup chopped onion
2 cloves garlic, minced
1 serrano pepper, chopped
Nonstick cooking spray
6 flour tortillas
1 cup shredded taco blend cheese (mild cheddar and monteray jack with jalapeno)
Preheat oven to 300 degrees.
In skillet cook chorizo with onion and garlic. Drain off grease. Pat with paper towels to removed additional grease. Stir in serrano pepper, set aside. Spray one side of three tortillas with nonstick cooking spray. Place sprayed side down on baking sheet. Top each tortilla with 1/3 cup cheese. Divide meat mixture between the three tortillas, top each with a second tortilla. Spray tops of tortillas with nonstick spray.
Bake for 10 minutes. Place under broiler for 2-3 minutes to finish browning tortillas.
Cut into wedges, serve with guacamole and sour cream, optional. Enjoy!
I shared this over at: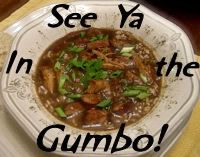 You should check out both of these linkys, there is always some AMAZING recipes linked up.