I found this recipe on Pinterest while looking for good seafood recipes. You can see the original recipe
HERE
.
3 Tbsp butter
1/4 cup flour
1/4 tsp black pepper
1 Tbsp lobster base substitute* (lobster base if you have it)
1 3/4 cup milk
1/2 cup white wine
1 cup shredded cheese, divided;.
4 oz can tiny shrimp
6 oz can crab
5 flour tortillas
*For lobster base substitute combine one Tbsp tomato paste with paprika; dilute with clam juice or juice drained from canned crab.
Melt butter in saucepan over medium heat. Add flour. Cook and stir for five minutes. Add pepper. Stir in lobster base, continue cooking one minute. Add milk and wine. Add 1/4 cup of the cheese. Continue to cook till thickened. Set aside.
Drain the crab and shrimp. Combine them in medium bowl. Add 3/4 cup cold sauce. Mix well.
Preheat oven to 425 degrees. Place two to three Tbsp seafood mix on each tortilla. Roll and place seam side down in baking dish. Top with remaining sauce and cheese. Microwave on high for one to two minutes. Then bake for 12-14 minutes.
Serve with
Chipotle Corn Salsa
and enjoy!
Shared this with: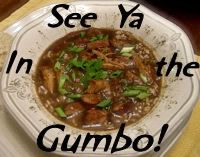 Check out all the great recipes linked up this week.