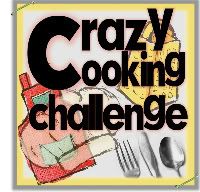 Getting ready for another
Crazy Cooking Challenge
hosted by Tina at
Moms Crazy Cooking
. This month's challenge was Apple Pie. As soon as I saw this recipe for
Caramel Apple Blondie Pie
topped with
Salted Butter Caramel Sauce
over at
Crunchy Creamy Sweet
I just knew it was the Ultimate Apple Pie recipe for this challenge! I must admit though that I had a bit of a tough time with the sauce - the first batch I tried to change up a bit and ended up with a batch of yummy butter toffee candy bits; the second batch I burned. Third time's a charm, right? Yep, the third batch turned out perfect. Not only was it good on the pie but it is also very yummy in coffee!
Caramelized Apple Blondie Pie
3 granny smith apples; washed, cored and chopped
2 Tbsp butter
1 1/2 Tbsp brown sugar
1/4 cup butter, melted and cooled
1 cup brown sugar
1/4 cup liquid egg substitute or 1 whole egg, slightly beaten
1 tsp vanilla
1 cup flour
1 tsp baking powder
1/4 tsp salt
In pan saute apples in 2 Tbsp butter until soft.
Salted Butter Caramel Sauce
If you are a very visual person, you will definitely want to click the link above for Crunchy Creamy Sweet's recipe. She posted VERY detailed, VERY helpful photos on making this sauce. After two flops, I was totally focused on making the sauce - not taking many pics, lol.
1 cup sugar
6 Tbsp salted butter, room temp
2/3 cup half-n-half
dash of sea salt, optional
Pour sugar into medium saucepan and melt over medium heat. Watch as it starts to melt, whisk every 15-20 seconds. It will start to clump as it melts. Once the sugar is completely melted and golden brown, remove from heat. Add the salt. Add butter all at once, it will foam up, this is normal but be careful of the steam. Whisk until the butter is completely melted. Place back over medium heat and slowly pour in the half-n-half. Whisk together. Keep whisking until the sauce is a uniform color, no stripes. Cook the sauce over med-low heat for one minute, whisking constantly.