Wanted something fairly quick and simple today, it just seemed like that kind of day. This is what I ended up with. It turned out super yummy, I'll have to do a repeat on this one.
8 oz corkscrew pasta
2 cups fresh spinach leaves
1/2 lb beef and pork jalapeno sausage
1/2 cup sliced mushrooms
1 clove garlic, minced
2 Tbsp olive oil
2 Tbsp fresh cilantro
Greek vinaigrette dressing
Cook pasta according to directions on package. Place spinach leaves in colander, draining pasta over the spinach.
While pasta is cooking heat olive oil in skillet. Add sausage and mushrooms, cooking until mushrooms begin to brown. Add garlic. Continue cooking for about 1 minute. Stir in pasta and spinach. Allow to heat for about 2 minutes. Stir in cilantro. Remove from heat and drizzle with dressing.
Serve and enjoy.
Shared with: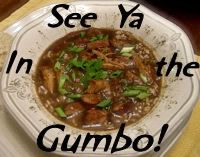 Check out all the great recipes linked up this week!