It is time once again for the
Crazy Cooking Challenge
hosted by Tina at
Mom's Crazy Cooking
. This month's challenge is fruit smoothies. I actually had a little trouble finding a smoothie I wanted to make, that is until I came across this blog,
Free Fruit Smoothie Recipes
. This is a blog with nothing but smoothie recipes. Any type of smoothie you could want is on this blog! If you are wanting a good smoothie, but don't know where to start I would recommend checking out this blog!!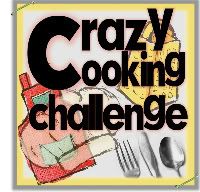 I modified this recipe slightly, to serve one instead of two and to suit our tastes a bit. This is the original version:
The Great Chocolate Banana Smoothie Recipe
. I used:
1 cup small ice cubes
1 large banana
3/4 cup 2% milk
1/4 cup vanilla yogurt
1 Tbsp nutella
Place ice in bottom of a single serve blender.
Adjust ice according to how you like your smoothie - less ice for more of a juice drink, more ice for more of a milkshake. (I actually did not know this before reading this blog.)
Add remaining ingredients and blend until smooth.
Serve immediately. Enjoy!