I have fallen way behind on my posts. I have about four recipes, counting this one, that I need to get posted. I also need to get to work on our menu plan for next week. Our RV is ready but John has some work to do in this area on Monday, so we will leave here on Tuesday and head back to San Antonio to pick up our RV. I'm enjoying visiting with the in-laws but it'll be nice to get back home. Now back to the recipe, fajitas my way:
2 Tbsp olive oil
1 pkg low sodium fajita seasoned chicken breast, about two pounds
2 tsp ground cumin
2 tsp ground coriander
1 small onion, cut into wedges
2 jalapeno peppers, cut into strips lengthwise
tortillas
Cut chicken breasts into strips. Heat oil in large skillet.
Add chicken and cook until done.
Add the cumin, coriander, onion and jalapeno and cook for an additional two to three minutes.
Serve with tortillas, flour or corn. Enjoy!
Shared with: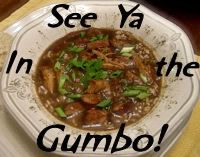 Love Bakes Good Cakes - All My Bloggy Friends
My Turn For Us - Freedom Fridays