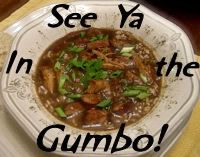 This is a variation of a recipe I found over at
Frugal Antics of a Harried Homemaker
for
German Chocolate Breakfast Oatmeal
. I didn't have coconut or walnuts so I went with Chocolate Oatmeal. It was yummy! John described it as chocolate oatmeal pudding - a very good description. The honey added just the right amount of sweetening, nothing extra needed. Served with bacon we had a very satisfying breakfast.
1 3/4 cups milk
1/4 cup unsweetened cocoa
1/4 cup butter
1/4 tsp salt
1 cup quick oats
1/3 cup honey
In saucepan combine milk, cocoa, butter and salt. Heat till bubbling slightly around the edge of saucepan, butter should be melted and cocoa well blended in so that it looks like chocolate milk. Stir in oats and honey and continue cooking till thick and bubbly, about five minutes.
Serve and enjoy!