I LOVE spinach salad. This is the first time I have made it with bacon and mushrooms; and without red onion. I had the red onion, I just forgot to add it this time and didn't really miss it. The bacon and mushroom made it super yummy!
fresh spinach
2 slices bacon
2 mushrooms, sliced
2 Tbsp dried cranberries
2 Tbsp walnuts
Cook bacon till crisp. Drain on paper towels and set aside.
Fry mushrooms in bacon grease for one to two minutes. Fill two individual bowls with desired amount of torn spinach leaves.
Top each with one slice of crumbled bacon, half the mushrooms, one Tbsp dried cranberries and one Tbsp walnuts. Serve with your favorite dressing and enjoy!
Shared with: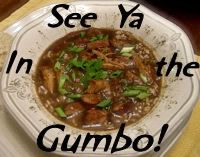 Check out all the wonderful recipes linked up this week!